Help me find my motivation!
When I saw that Carolyn was starting this KAL I was thrilled. Partly because I have a secret love for Debbie Bliss, and partly because I can't seem to finish a single one of her patterns. I have Debbie Finish-itis, I suppose.
Here is Beth, from Junior Knits. I am embarrassed to say that it has been over a year since I started this baby and while it will still fit my daughter in the body, I have to re-knit the sleeves. I'm thinking about adding a folded-over cuff to the sleeve so that I only have to knit one more sleeve....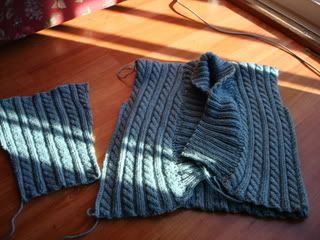 ">